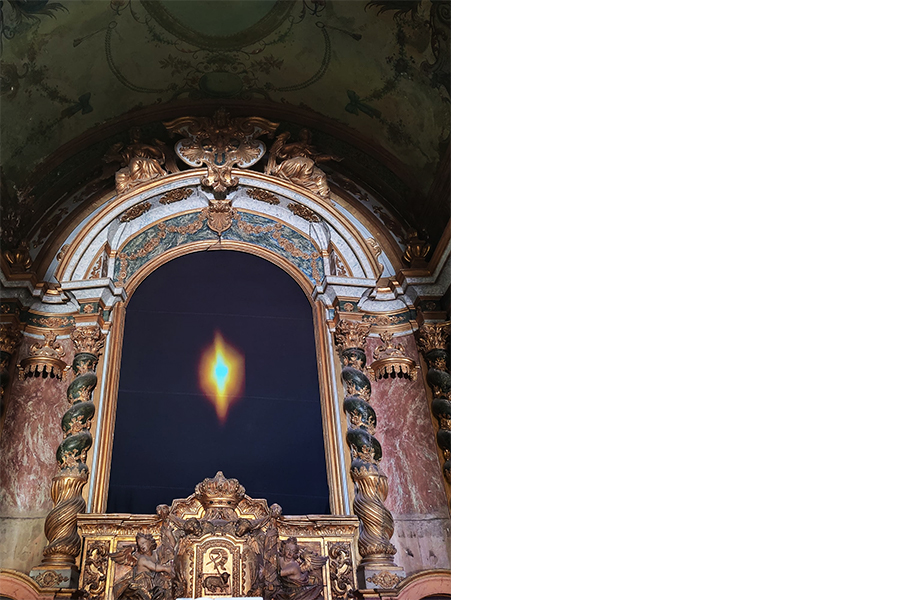 O Incendiário [The Arsonist] reveals itself in the soundscape of a fire that consumes the Chapel of the Holy Spirit. In the image of an impetuous combustion, where some see peace and others tragedy by the human hand. Its dual nature makes this terrifying flame a sublime experience, a chorus of cries.
This scenario is finished with natural and visual elements that build a sensorial picture of the conflagration of O Incendiário. It seeks to establish a dialogue with the painting Descent of the Holy Spirit to earth on the Feast of the Pentecost, attributed to Bento Coelho da Silveira, replacing the void it left on the altar of the Chapel.
It is in this empty space that O Incendiário acts and ignites the spirits of those who contemplate the unfathomable, for there is always something to be frightened of.
PT /
O Incendiário revela-se na paisagem sonora de um incêndio que consome a Capela do Espírito Santo. Na imagem de uma combustão impetuosa, onde uns conseguem ver paz e outros tragédia, pela mão humana. A sua dupla natureza torna esta chama aterradora numa experiência sublime, num coro de clamores.
Esse cenário é finalizado com elementos naturais e visuais que constroem um quadro sensorial desta conflagração d'O Incendiário. Este procura fazer um diálogo com a pintura Descida do Espírito Santo à terra do dia da Festa do Pentescostes, atribuída a Bento Coelho da Silveira, através da vaga que esta deixou sobre o altar da Capela.
É nesse espaço vazio que O Incendiário atua e inflama os espíritos, que contemplam o insondável, pois há sempre algo a temer.